Princess 30 - Edzell Castle 5 Berth River Cruiser With Everything On Her
Price Drop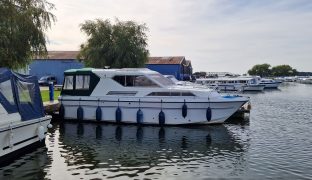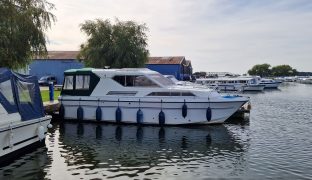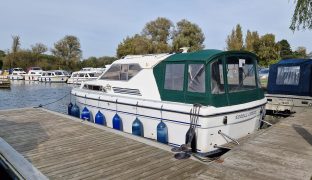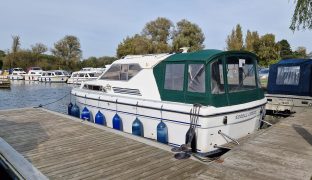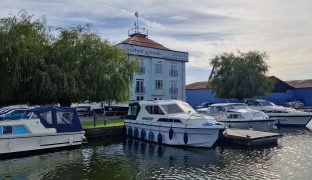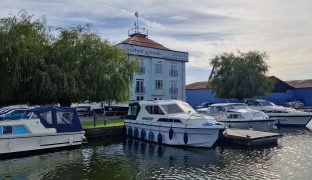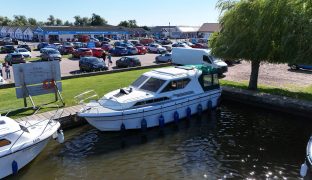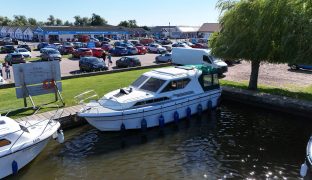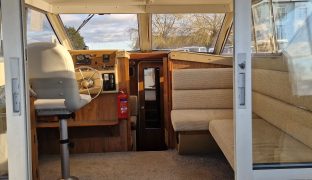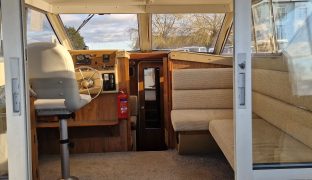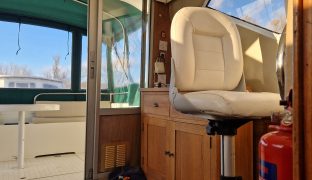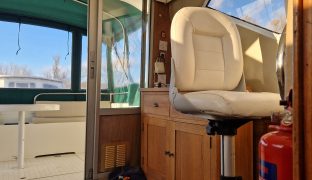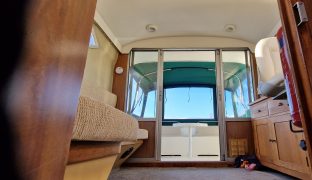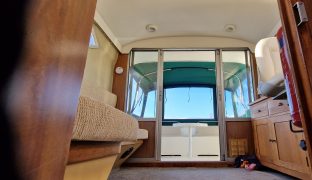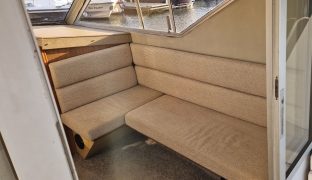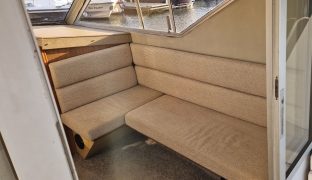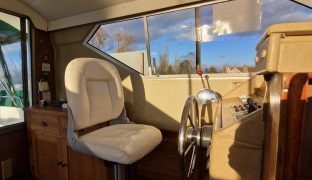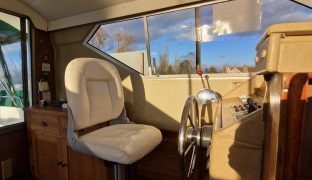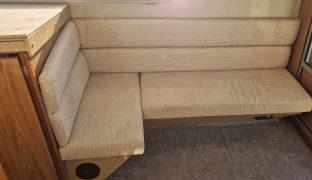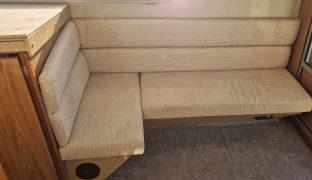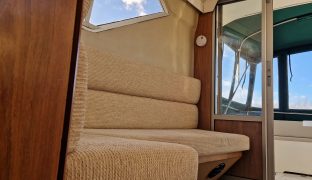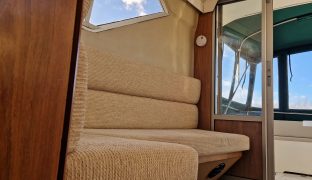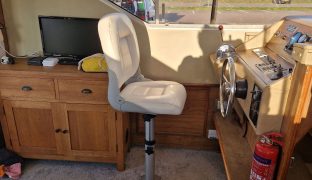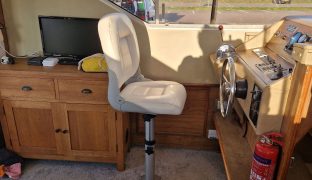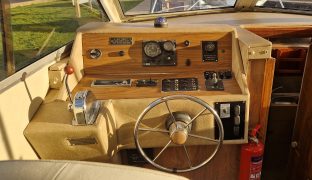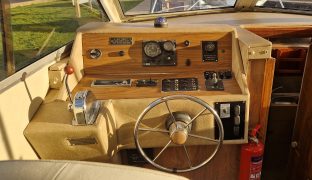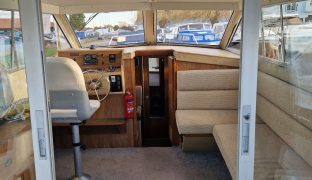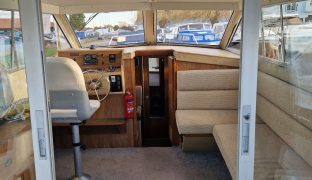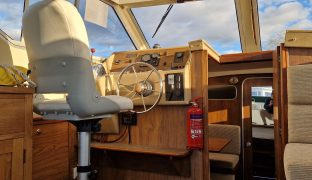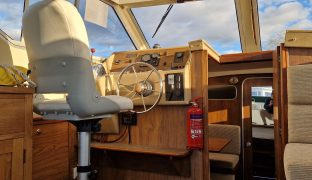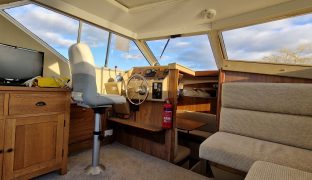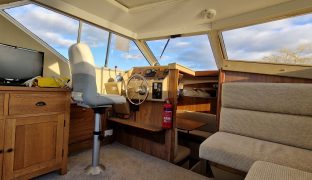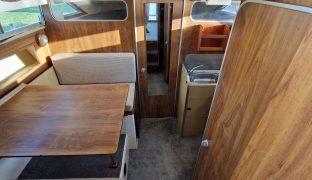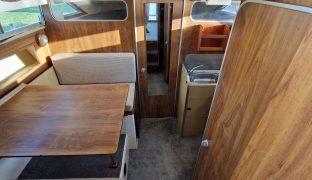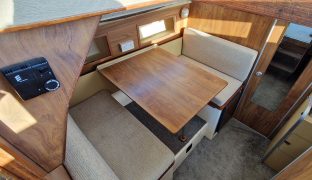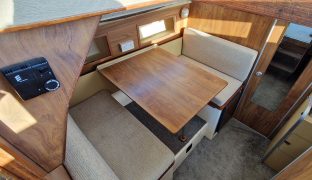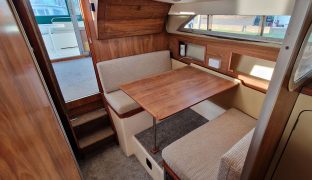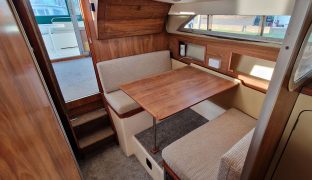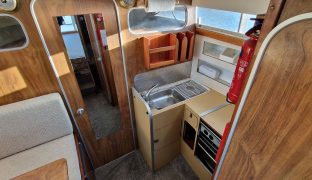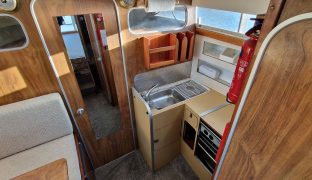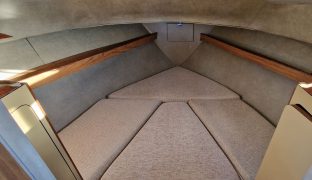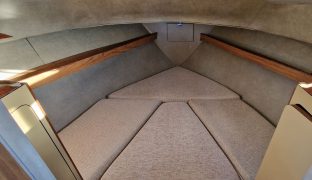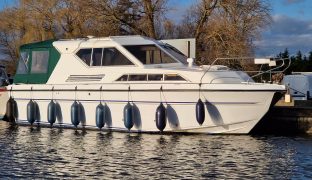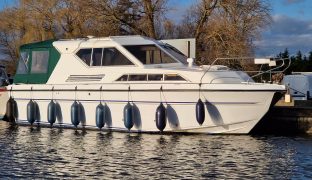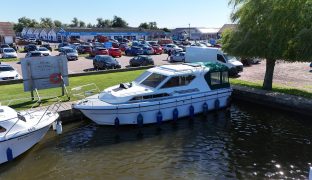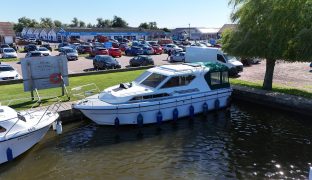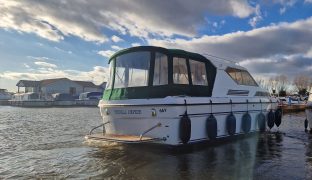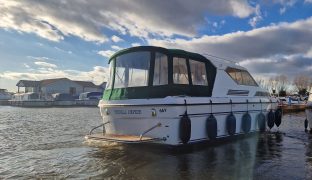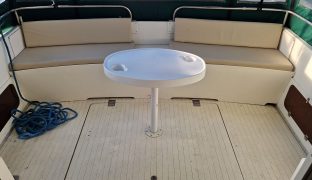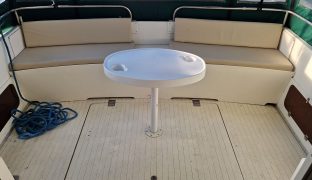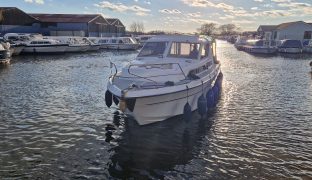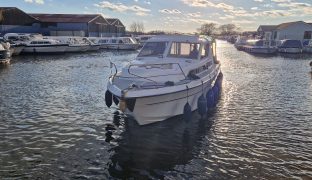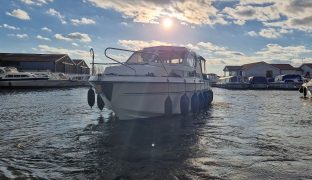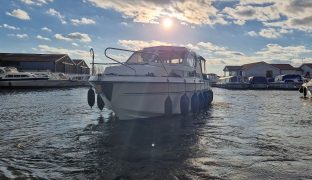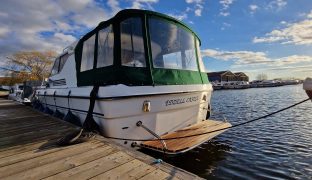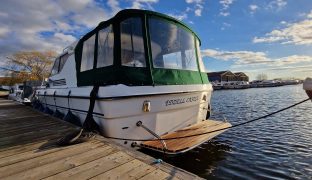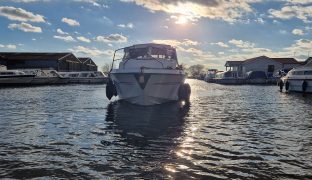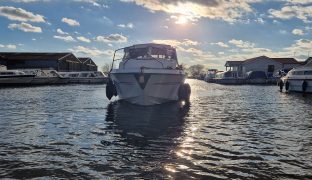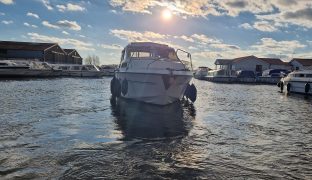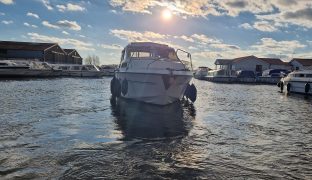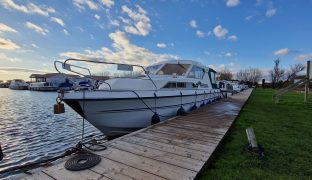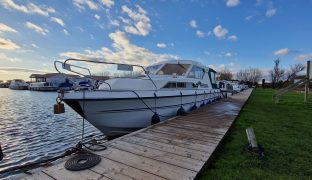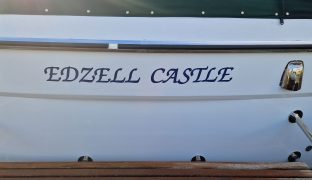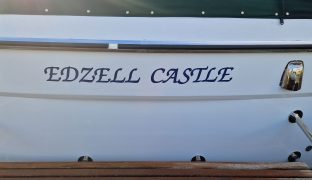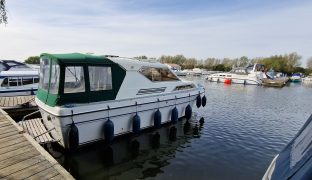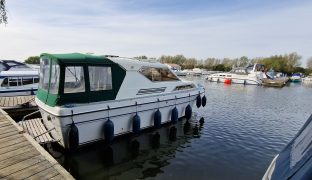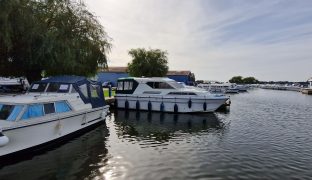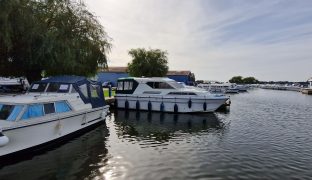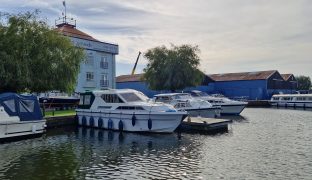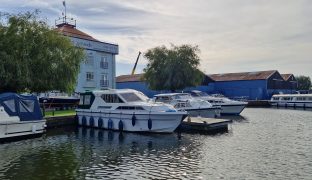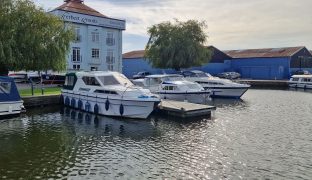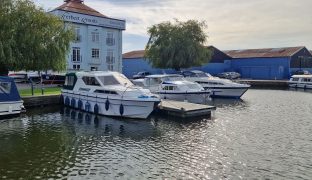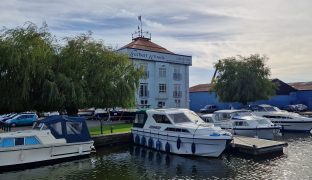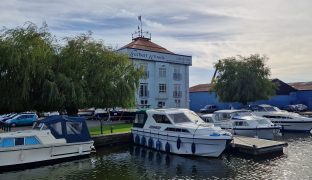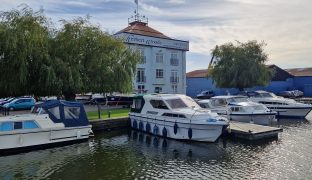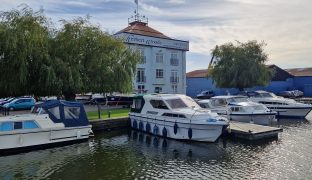 Edzell Castle is a sedan style cruiser, 70 hp single engine on outdrive, bow thruster, diesel powered warm air heating, 5 berths in 3 cabins, anti fouled and engine service in 2020
Key Features
Warm Air Heating
Bow Thruster
Shore Power
Nice Upholstery
About this Boat
This popular cruiser is a spacious sedan style, the outside area is covered by a canopy in good condition, there is seating in the aft cockpit with a pic nic table and plenty of room for a couple of deck chairs, step into saloon with the driving position at the front, seating in an 'L' shape turns into a single berth, with a side board opposite there are good views for the captain and passengers alike with the large picture windows.  There is warm air heating and the upholstery is all in good condition.
Step down into the dining/galley area where the dining table and seating will turn into a double berth, the galley consists of a sink and drainer, with water heated by a calorifier there is a gas oven, 2 hobs and grill and a 3 way fridge, there is plenty of storage.
The separate toilet and shower room has a pump out toilet with a holding tank and hand basin.
Further forward the bow bedroom has 2 single berths that can be made into a double.
'Edzell Castle' has a bow thruster,  electric winch, shore power, search light and solar panels. The Ford engine is under the cockpit floor, with a bathing platform over the outdrive leg, use an outdrive leg as a stern thruster for excellent control, she was anti-fouled and the engine was serviced in 2020
The Boat Safety Scheme Certificate is valid until 2025
Waterside Marine Sales LLP normally act as Broker for the Vendor who unless otherwise stated, is not selling in the course of business. Whilst every care has been taken in the preparation of these particulars, the correctness is not guaranteed and they are intended as a guide only and do not constitute part of any contract.

A prospective buyer is strongly advised to check these particulars and to have at his/her own expense a survey carried out by a qualified surveyor to check the condition and description of the boat thoroughly prior to completing the purchase.

Deposits paid prior to the survey taking place, are non-refundable, except for when the surveyor discovers a severe material defect.

Waterside Marine Sales LLP cannot be held responsible for any fault that is found with a boat after it has been purchased.

A buyer may have redress to his or her surveyor, if the fault that is found was missed when the survey was carried out.
Boat Alerts
Subscribe and receive email alerts of new and updated boats.
Here's what our customers say…
"From the moment I first approached Waterside Marine Sales the staff have helped with advice and guidance. James was kind enough to even collect the boat. I have been kept updated throughout by James. Many thanks Paul. "
Paul Jones Upsey Daisey, Paul Jones Upsey Daisey
"Thank you James for your speedy response and getting my boat sold so soon. Excellent service!"
Mr Lucas, Jakari
"James knew his game! Having observed many similar boats remain unsold elsewhere I was a little dubious about ours being sold, i fully relied upon James who informed me throughout the process, estimated the value and she sold very soon after. He held firm on our agreed price, following the sale, Lynne took over and everything was a smooth transition. Top quality! Without doubt i would recommend Waterside. "
Robert, Swampduck
"Very professional company, would highly recommend. Thank you James and Lynne. "
Chris Guille, Snowbird
"We found Waterside Marine Sales to be extremely professional and efficient during the purchase of our new boat and sale of our old boat! As well as being very knowledgeable about the craft. James and Lynne were lovely people to deal with and we would definitely use them again the future. Thank you for all your help we are very very happy customers!! "
Ian and Judith, Taurus Five
"Excellent service from Waterside Marine Sales. Kept us up to date on the sale, our boat was sold in less than a week! Friendly staff, highly recommended. Thank you James and Lynne! Venetia and Nigel."
Talisman, Venetia and Nigel
"The service i received was excellent throughout. James kept me informed and advised at every step. I would highly recommend to anyone wishing to sell their boat. Thank you very much. Colin Court"
Colin Court, Snaffles
"Great communication form James and Lynn very helpful, friendly, 10/10 for service would highly recommend to others. "
Mr Cox, Suni Malu
"Thank you. Absolutely wonderful people and service. Thank you James and Lynne "
Mr Lynam, Elida sale
"Excellent service James, thank you for being quick with the sale."
Mr Dunn, Hampton Safari
Previous
Next