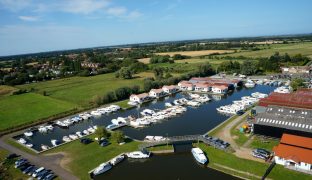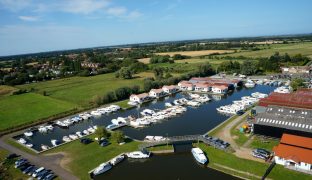 Moorings for Rent
Welcome to Waterside Marine Sales' private moorings and thank you giving us the opportunity to share with you the benefits of having your boat moored at Broads Haven Marina on the Norfolk Broads.
Broads Haven Marina is situated in the village of Potter Heigham one of the major boating areas on The Broads. Potter Heigham sits on the beautiful River Thurne and is famous for its medieval bridge (believed to date back to 1385) which leads to Hickling Broad and Horsey Mere. We are close to a range of local amenities and are central to access all areas of the Broads.
Our helpful and friendly staff will make every effort to look after you and your boat. We have over 100 exclusive private moorings some of which are on floating pontoons; some are serviced with electricity and water. Herbert Woods is a popular private marina our site is well-maintained with private parking accessed by a barrier with a unique code and Wi-Fi is included in your mooring fee while you are on site.
In addition we have water, pump-out, gas and re-fuelling on site. Our Marina has full boatyard facilities including cranage. We have fully qualified Marine Engineers, Boatbuilders and our own Upholstery Shop, and we are available to meet all your watercraft servicing and repair needs.
Please ring Lynne on 01692 670961 for prices and availability.
Here's what our customers say…
"Good service from two dedicated staff Lynne and Alex both helped us through the boat sale and kept us informed of offers etc."
Mr and Mrs Banks
"Lynne and Alex have been brilliant throughout my time at Waterside, they were honest and helpful during the purchase, during the lockdown they were thoughtful in the care of my boat while I was ill, and were on top of things throughout the sale. I couldn't recommend them more highly. "
Trevor
"Very helpful and considerate, excellent quick sale and good communication throughout. "
Karen
"We have been delighted with the friendly service from Waterside Marine, both on the purchase and sale of our boat."
Mr and Mrs Leggett
"Alex and Lynne were very helpful at every stage of selling our craft and buying a new one, a very professional service affording a quick sale and happy Customers all round, well done and thank you."
Mr Ward
"Lynne and Alex, many thanks for a smooth and speedy sale, excellent work, it was a pleasure dealing with you."
K Bacon
"Thanks for a prompt and efficient service to facilitate an early sale, the photos on the web site were excellent. "
Dave
"Thank you for the quick sale Lynne and Alex, photos were on the internet straight away and boat was sold within the week. Always very helpful whatever the request. "
P Curtin
"A very efficient and helpful service from both Lynne and Alex. Our boat was on the website within 24 hours and sold within the next 24 hours. All the paperwork completed and funds transferred quickly, thanks Lynne."
Trevor and Sue Hale
"Very pleased with Waterside Marine Sales. After taking our boat to Potter Heigham they quickly took the photos, put the boat on line and it sold within a week. Alex and staff were very helpful and knowledgeable. A great team."
A Brace
Previous
Next